Price of Pure Castor Oil in India: Costly or Cost-effective?
Feb 08, 2023
Castor Oil Business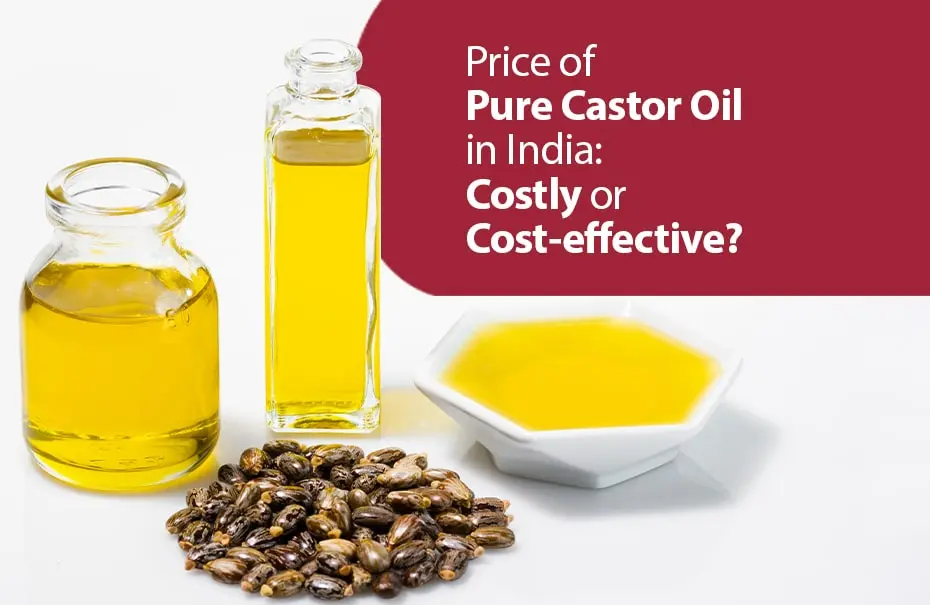 We all know when a product is pure, 100% natural, unadulterated, or organically sourced, it will be expensive. So, is castor oil too expensive, or is it an affordable oil in India? Let's find out.
Decoding Castor Oil
Castor oil is an ancient oil used for centuries all over the world and India is one among them where castor oil has a special place even in Ayurveda due to its healing properties. As one of the most sought-after plant oils, castor oil is extracted from the seeds of the Ricinus Communis plant, also known as castor beans.
As far as the chemistry of castor oil is concerned, it is a pale-yellow or almost colorless, transparent viscous liquid with a faint mild odor and a nauseating taste. It is a mix of triglycerides consisting mainly of 85–90% Ricinoleic acid (a powerful antioxidant with anti-inflammatory properties) and 12 Hydroxy Oleic Acids. It is chemically a glycerol molecule, with each of its three hydroxyl groups esterifying with a long-chain fatty acid.
A wide range of industries use castor oil and its derivatives, including cosmetics, soaps, lubricants, hydraulic and brake fluids, paints, dyes, coatings, rubber, inks, food, cold-resistant plastics, adhesives, waxes, polishes, nylon, pharmaceuticals, perfumes, and many more.
Castor Oil Cultivation in India
Deep, moderately fertile, well-drained, with slightly acidic conditions, and sandy loams are some of the few suitable soils for castor cultivation. While tropical and subtropical climates are believed to be the ideal conditions for the growth of castor plants. India proves to be the best in terms of both – soil and climate for castor farming resulting in it being the world's leading producer of castor oil and dominating international exchanges with 90% of the world's total production.
India is today not just the largest producer but exporter of castor oil as well, with China being the biggest buyer of castor oil from India followed by the USA and European countries including the Middle East and Latin American countries.
Among the major castor-growing Indian states – Andhra Pradesh, Tamil Nadu, Odisha, Rajasthan, Uttar Pradesh, Maharashtra, Karnataka, Madhya Pradesh, and Bihar, Gujarat has a lion's share of 71 percent in the production of castor and castor oil. The Kadi district in Gujarat has the world's highest castor seed yield in kilograms per hectare, while Kutch, Ahmedabad, Kheda, Vadodara, Rajkot, Jamnagar, and Gandhinagar are also important castor-growing districts.
As per the data of the Solvent Extractors' Association of India (SEA), castor production in the country during the 2021-22 season was recorded at around 1.79 million Metric Tons (MT) with 1.49 million MT in Gujarat alone which might have been doubled or even tripled by now. Many major companies around the world manufacture castor oil, including Ambuja Solvex, Adani Group, Wilmar International Ltd, NK Proteins, Jayant Agro Organics Limited, and Girnar Industries. In India, castor seeds are planted mainly in July/August and harvested around January/February, reaching the market by mid-May.
The Indian Variant of Castor Plant
By weight, castor seeds contain 45 to 50 percent oil, and about half of this oil can be extracted with current technology, and guess what? The Indian variety of castor has an oil content of 48% out of which about 42% can be extracted while the cake retains the rest.
The harvested castor seeds are dried till the pods break open and are separated from the pod either manually or by using de-hullers. Castor seeds are either hot-pressed or cold-pressed to extract oil. In cold-press, the collected seeds are hulled and directly pressed at room temperature without undergoing any process while in hot-pressed the seeds are cleaned, cooked to coagulate protein (necessary to permit efficient extraction) and to free the oil for efficient pressing, and dried prior to extraction.
Castor Oil Price in India
Castor oil is not a costly affair in India. They are priced based on the characteristics, applications, type, purchased quantity, and also according to the castor oil supplier you rely on causing differences in the final price.
Castor oil is subjected to various chemical processes like oxidation, hydrogenation, sulfation, epoxidation, dehydration, transesterification, etc. to obtain various types of castor oil and its derivatives such as
Deodorized castor oil
Blown castor oil
Low-moisture castor oil
Refined castor oil
Pharmaceutical-grade castor oil
Hydrogenated castor oil
Although castor oil is known for its therapeutic benefits and buy it for personal uses like for massage, as a hair oil, for pain-relief, etc., the sale of commercial-grade castor oil is more because of its wide range of industrial usage.
Therefore, the castor oil price in India ranges anywhere from Rs 100 to Rs 1000 per kg, based on its grade– commercial grade, pale-pressed, sulfated, hydrogenated oil, and so on.
Where to buy? From Whom?
Commercial or residential, castor oil has multiple uses in both and hence is always in high demand but, to get the desired outcomes, pure, unadulterated, 100% natural castor oil is required, which raises the question of where to buy it and from whom.
Since it is the nature of humans to look for the cheapest price possible before buying anything, and there are various small and large-scale manufacturers of castor oil in India; you may come across several companies selling them for cheap but, it is advisable to always buy from trusted and reliable castor manufacturer even if you have to pay a bit extra. The reason is, castor oil can be easily adulterated. To maintain the color, nutrients, and odor of castor oil, many chemicals are added which won't give you the results you are expecting. Therefore, always shop from a known or leading castor oil manufacturer in India like us Ambuja Solvex to get the best and most satisfactory results that too in a fair price.
Visit our site to explore castor oil and its products and to know about our reasonable pricing.