Adhesive, Elastomer, Coating
Adhesive, Elastomer, Coating
Raw Castor materials are widely used by producers of adhesives, elastomers and coatings. Let us look at some important Castor Oil derivatives used by the producers. Hydrogenated Castor Oil (HCO) is a versatile integrant for several applications. It is produced by the hydrogenation of Castor Oil. It can also be utilized for flow control and dispersing additive in powder coatings, coating agent for papers, hot-melt adhesives used in packaging, book binding, footwear, carpet back, in product assembly and sealants, thick film chlorinated rubber, epoxy and vinyl coating, dielectric compounds, etc. HCO has high workability, long-range stability, high-drop point and water resistance.
Castor Oil is treated to remove faint odours and after the completion of this process, Deodorized Castor Oil is obtained. It acts as an excellent drying agent used in paints, varnishes, hard-finish coatings, printing inks, linoleum and oil cloth manufacturing.
Polyurethane (also called PU) adhesive provides extremely strong adhesion, isolation, and flexibility. Polyurethane adhesive based on Castor Oil obtained by cold polymerization of the polyol and prepolymer (Castor Oil-based) mixture, a reaction leading to the formation of the polyurethane. It has several applications, one of them being glued laminated timber. Many studies are being carried at present to understand the feasibility of the following PU.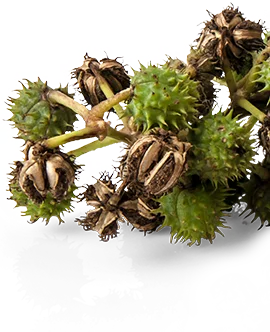 Detailed Information
About Castor Oil Products