Personal Care & Cosmetics
Castor Oil Applications in Personal Care & Cosmetics
There are diverse Castor Oil applications in various personal care & cosmetics industries as it carries many essential benefits for the body (primarily skin &hair). Castor Oil has supreme cleansing, moisturizing, dispersant, anti-viral, anti-bacterial, anti-inflammatory, anti-acne attributes as well as vitamin E and other assorted properties.
Pure Castor Oil soap is among the first choices of consumers as it is a humectant that keeps the skin aptly moisturized. Pure Castor Oil for hair is also a recommended choice when it comes to shiny, thick, and lustrous hair. Hydrogenated Castor Oil in cosmetics is used as an emulsifier, surfactant, and fragrance ingredient. Like pure Castor Oil, hydrogenated Castor Oil is rich in triglycerides from ricinoleic acid.
Other Castor Oil applications in cosmetics and personal care are to formulate products like creams, shampoos, lip gels, lipsticks, hair oils, deodorants, perfumes, lubricants, sunscreens, and other personal hygiene.
We offer products that retain purity and provide the consumers the treat of nature that heals, soothes, and strengthens the body and the world.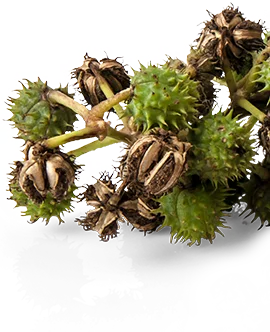 Detailed Information
About Castor Oil Products