Industrial Applications
The unique properties of Castor Oil which is also a great source of Ricinoleic acid qualify it to be used for different industrial applications. Let us look at some of the many Castor Oil products that are used for industrial applications.  Pale-Pressed Castor Oil is widely used in personal care products and industrial applications like – pharmaceuticals, cosmetics, coating for vitamin and mineral tablets, lubricants & paints, dyes, as capacitor impregnate and electric material for electric condensers.
Pressing the castor seeds without heating or steaming derives cold-pressed Castor Oil making it very advantageous for pharmaceuticals, cosmetics and personal care products. It is mainly used to cure skin problems, skin disorders, burns, and health concerns like abdominal problems, muscle pains, headaches, inflammatory conditions, skin eruptions, sinusitis, etc.
Methyl Ester obtained from Castor Oil could be used as a petroleum diesel additive for improving both the environmental problems caused due to fuels. Methyl ricinoleate is a clear, viscous fluid that is used as a  cutting fluid,  lubricant, additive surfactant,and plasticizer. Polymerized Castor Oil is also an important ingredient in making advanced Epoxy. Whereas Turkey Red Oil has many uses as one of the most popular emulsifiers used in various industrial applications. At Ambuja, we understand the needs and demands of diverse industries and cater the best quality Castor Oil products to our customers.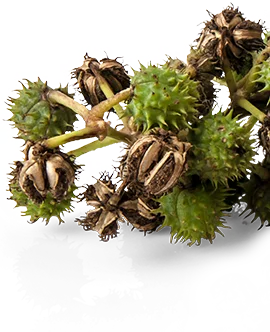 Detailed Information
About Castor Oil Products