How has India become a growing market for cosmetic startups?
Mar 12, 2022
Beauty Industry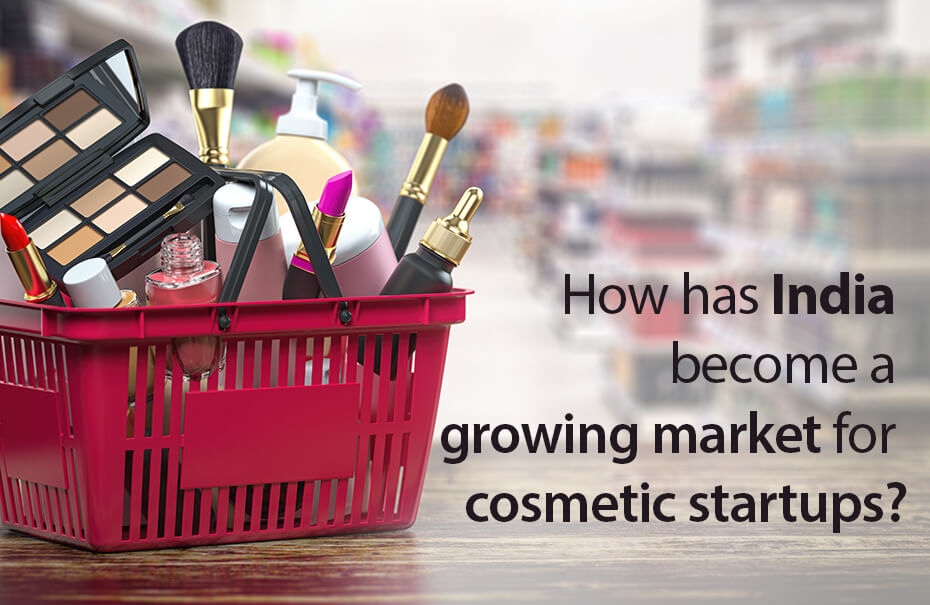 The obsession with beauty in India is growing and so is the beauty business. It is no longer a thing of rich and young people and neither it is just confined to a specific gender. Both for men and women from young to old, beauty has now become a priority which is pushing the Indian cosmetic market to greater heights that soon it may give a tough competition to the international ones.
India and the Beauty Practices
Self beautification i.e. the art of maintaining beauty and decking up; dates back to the Indus Valley civilization. It was more of a homily and daily routine in ancient times before beauty became a business. With homegrown practices and the science of Ayurveda, people were completely reliant on nature for both their skincare routine and glam up.
A lot of nature's gifts like coconut oil, castor oil, honey, aloe vera, lemon, etc., were a part of skincare practices since time immemorial which have now turned into the most-sought ingredients in the current cosmetic industry due to the major shift in consumer behavior i.e. the switch from chemical-based to natural products.
Beauty practices are subject to change. From home remedies, celeb-influenced products, DIY methods, old-wives tales, or grandma's secrets, to now 100% natural, vegan, cruelty-free, organic products, the cosmetic industry is like a sea-wave that keeps changing.
Read more: Are Parabens Really The Villains in Cosmetics?
The Current Status of the Indian Cosmetic Market
The speed at which the Indian cosmetic industry is growing is twice as fast as markets in the United States and Europe. Due to the changing lifestyle, demographic growth, latest technology, and digital solutions, ever-improving economic and social conditions, the growth rate which was estimated at 9.7% before pandemic although have slowed down is now boosting again. Starting in 2022, it may increase by +2.8% and with such a speedy improvement, it is no surprise that India is heading to become the leader in the cosmetics industry of tomorrow.
The Changing Faces of Indian Cosmetics
Beauty trends keep evolving and so do the Indian consumers. There was a time when the obsession with fair skin was so much that the most-sought product was the fairness cream. Today, with a lot of movement towards skin tones pride, social media campaigns, and real advertisements, the face of Indian beauty is changing and now cosmetics are available in every skin tone for every gender and age.
Another major change that we can see in the Indian cosmetic market is in men's grooming. A lot of innovation has happened in the men's sector. Earlier when only shaving cream and deodorants were the only few products available for men in the cosmetic and personal care section, now has a wide range of products which includes – fairness cream, hair removal creams, moisturizes, bread growth and maintaining products, sunscreen, chapsticks, hair styling products, and whatnot?
Lastly, the biggest change that has happened in the Indian beauty trend is the switch. The shift from chemical-based to natural products. Organic & natural cosmetics are becoming the future of Indian cosmetics with people learning more and more about the harmful effects of chemical-based cosmetics. In fact, not just natural ingredients, people are preferring products that contain organically-grown ingredients for their skin. Now that's a significant change.
Read more: How Did Nykaa Become So Successful?
The Mix of Tradition and Innovation
Indian customers are tricky ones and hence they are also hard to please. They still have their roots in their traditional methods but also love to experiment with the latest innovations. Some still follow home remedies and traditional skin care routines while shopping from expensive Indian and international cosmetic brands. In fact, the Korean beauty trend is more famous in India than in any other country.
So, to satisfy the changing taste of Indian consumers, many companies are now mixing tradition and innovation to serve exactly what the Indians are looking for. For example castor oil. The ancient, most popular in the Ayurveda, and the one that is found in every kitchen castor oil is now the most important ingredient in cosmetics. Organic cold-pressed castor oil is one of the most-bought products today by Indian consumers in order to treat many skincare problems. With the entry of castor oil in cosmetics, the graph of the Indian cosmetic market has seen a significant rise because of the spiking demand for it as the benefits that one gets from it are as vast as an ocean.
Many brands have started recognizing the hidden benefits of castor oil and hence have derived its innovative versions like hydrogenated castor oil which proved to be a boon to appearance-conscious people. Known to be a great moisturizer, surfactant, emulsifier, humectant, hydrogenated castor oil in cosmetics is without a doubt a game-changer.
Apart from the mixed needs of Indian consumers, the climate in India is also a major challenge for cosmetic brands. Since the Indian climate is totally unpredictable as well as extreme, for a cosmetic product to survive, it has become a necessity to develop it such that it can withstand any sudden and severe climatic changes in India. Therefore, many Indian as well as international cosmetic brands, are experimenting with traditional as well as innovative solutions to develop products, especially for Indian consumers.
Challenges and Future of Indian Cosmetics
With the trending conscious consumerism, in the name of natural, organic, vegan, eco-friendly, and cruelty-free products, a lot of cheap and counterfeit products are selling like hotcakes which people fail to understand and fall into their trap. Therefore, always buy from trusted and reliable sources to repent later.
As far as the future is considered, organic and natural cosmetics are all that we see because of the increased awareness regarding the damaging effects of chemical-based cosmetics on the skin and the environment. And with praise-worthy innovative natural cosmetic products, the future of Indian cosmetics is definitely going to be bright and long-lasting.
Ambuja Solvex, one of the leading hydrogenated castor oil manufacturers in India, believes in transparency and trust more than anything which is why, we hide nothing from our consumers and develop and provide both our products and services that are 100% natural, unique, effective, and reliable.