How Did Nykaa Become So Successful?
Nov 11, 2021
Beauty Industry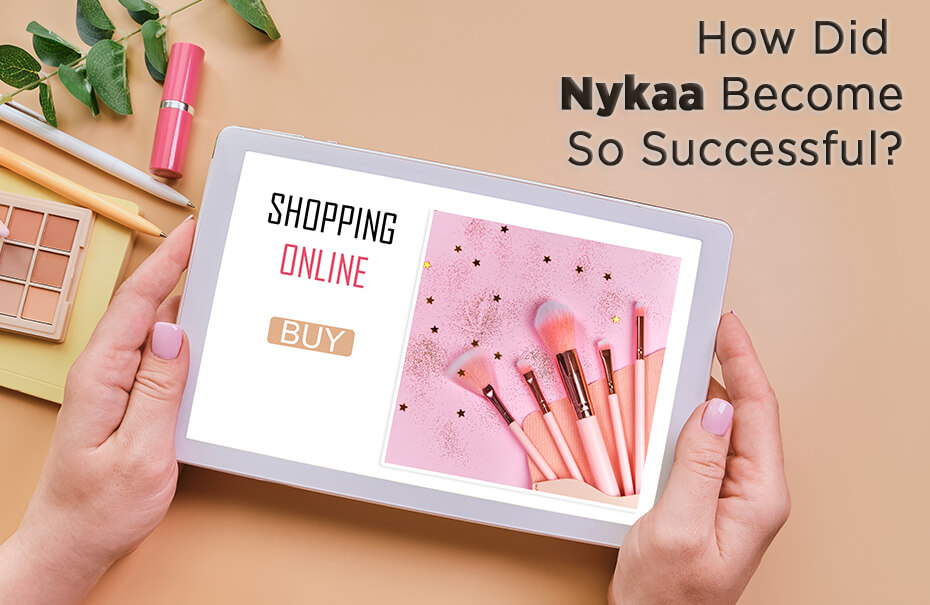 The last decade was pretty encouraging for the entire Indian startup ecosystem. A number of promising startups emerged and successfully cemented their position in the challenging Indian market. A few even managed to turn into an Unicorn – a status every startup founder dreams of achieving one day.
But there was one startup in particular, which cut above the rest and created history by becoming the only profitable unicorn to go public this year, making a blockbuster debut at the stock exchange. The startup is none other than the leading cosmetics player in India – Nykaa
Led by Falguni Nayyar, an IIM-Ahmedabad alumna and former Managing Director of Kotak Mahindra Capital, Nykaa's journey to becoming the most popular brand in the beauty, fashion and wellness space is truly worth revisiting.
Let's dig deep then and try to answer the question which is on everyone's mind currently – How Did Nykaa Become So Successful?
Recommended: What Are Green Cosmetics? why they necessary for skincare
There were several factors which fuelled Nykaa's growth story. Here's a look at the key ones that Nykaa got absolutely right:
Nykaa tried to solve a unique problem with a unique solution
By early 2010, the rise of the internet was clearly visible. Emergence of companies like Flipkart and SnapDeal made e-commerce shopping an everyday thing.
Everything, from books to dining tables, was available at the click of a button. Yet, when it came to buying genuine, 100% verified beauty and wellness products online, there wasn't a single option available to the customers.
This is where Nykaa came in and hit the bull's eye!
Nykaa partnered with national as well as international beauty and wellness brands, and started selling authentic products directly through their self-built e-commerce platform.
Nykaa's curation of a wide-range of products and product categories, backed by the claim of genuinity, ensured customers finally had a trust-worthy place to buy beauty and wellness products without leaving the comfort of their home.
Nykaa started small but had a crystal-clear vision
Unlike most new-age startups who start their operations giving massive discounts on their products and services in order to find as many customers as early as possible, Nykaa took on a different approach.
Nykaa started slowly but steadily, and did not rely on cheap pricing to attract new customers. Their vision was clear – to provide quality products at fair prices.
The leadership team also made sure that their marketing budget did not go overboard and remained true to the essence of their brand.
This profitability over growth approach helped Nykaa turn profitable from an early stage – something which still remains a distant dream for most new-age startups.
With a steady stream of cash-flow coming in, Nykaa earned the freedom to take risks and get bolder & better.
Nykaa defined its core target audience brilliantly
From day one, Nykaa was easily able to cut through the clutter and communicate directly with its customers. And this was only possible because of its clearly defined core target audience.
Nykaa focussed on catering to middle to upper middle class girls and women who wanted to feel confident and look groomed – whether in a party or at the office.
This consciously created niche helped Nykaa build a strong rapport with its target customers and gave them an opportunity to adapt to their customer's demands.
Nykaa's innovative marketing strategy
Nykaa's marketing strategy was perfectly in-sync with their target audience's buying behaviour.
The marketing team was aware of how busy their customers' lives were and how inconvenient it would be for them to step out of their homes to buy cosmetics and wellness products. Hence, Nykaa decided to go all-digital with no offline stores to begin with.
This way, Nykaa reached out directly to their customers instead of waiting for the customers to visit the store.
And for their digital-only presence, Nykaa targeted specific audience demographics and adopted video-based content strategy along with general online media strategy such as SEO, influence marketing and email marketing.
The target audience really hooked onto the video content in particular, which tremendously helped Nykaa build a loyal customer base.
Recommended: Why Cosmetic Manufacturers are shifting towards Organic Skincare Business
Nykaa's entry to Retail Market at the right time
After becoming an established e-commerce player within a few years of its launch, Nykaa felt the need to expand further. In line with its goal of becoming the biggest beauty & wellness brand of the country, Nykaa launched its first offline store in 2015.
With the opening of its first store, Nykaa provided an opportunity to its customers to check out a wide-range of products in person and created a successful omni-channel presence.
Retail stores also ensured more and more people got to know about Nykaa, increasing the brand's visibility across age groups and across cities
Nykaa launches Nykaa Fashion & Nykaa Man
After acing their retail store strategy by opening more than 70+ stores across various cities of India in just 3 years, Nykaa was all pumped up to take their next big step.
In 2018, Nykaa launched its new vertical, Nykaa Fashion – a curated marketplace for fashion and lifestyle products. Under Nykaa Fashion, the brand expanded its product categories across four consumer segments – children, men, home and women.
And following the success of Nykaa Fashion, Nykaa took a giant leap of faith and introduced Nykaa Man – a platform exclusively dedicated to Men's grooming.
Both these gutsy decisions proved beneficial to Nykaa and helped Nykaa emerge as a multi-brand entity nationwide.
Nykaa's pivot-driven approach
With the corona virus creating havoc in the year 2020, Nykaa's operations were destined to get affected. A complete lockdown across the country meant that businesses were only allowed to sell essential products – something which Nykaa's product range didn't have.
However, Nykaa's team quickly stood up to the occasion and showed resilience & adaptability during the critical time.
Nykaa pivoted swiftly and launched an essentials-only online store. The products included hygiene-based essentials such as sanitizers, hand wash and face masks to name a few.
This strategy helped Nykaa stay on the course when the future seemed bleak. Masterstroke!
Conclusion
All in all, Nykaa's journey to success can be termed as a story of clear vision backed by actionable steps taken at the right times. It is also worth noting that Nykaa's team didn't focus on making just their own brand big, they ensured all their collaborators – from fashion labels to castor oil manufacturers, flourished and became part of their growth story.