Journey of a castor bean to castor oil and its derivatives
Feb 11, 2020
Beauty Industry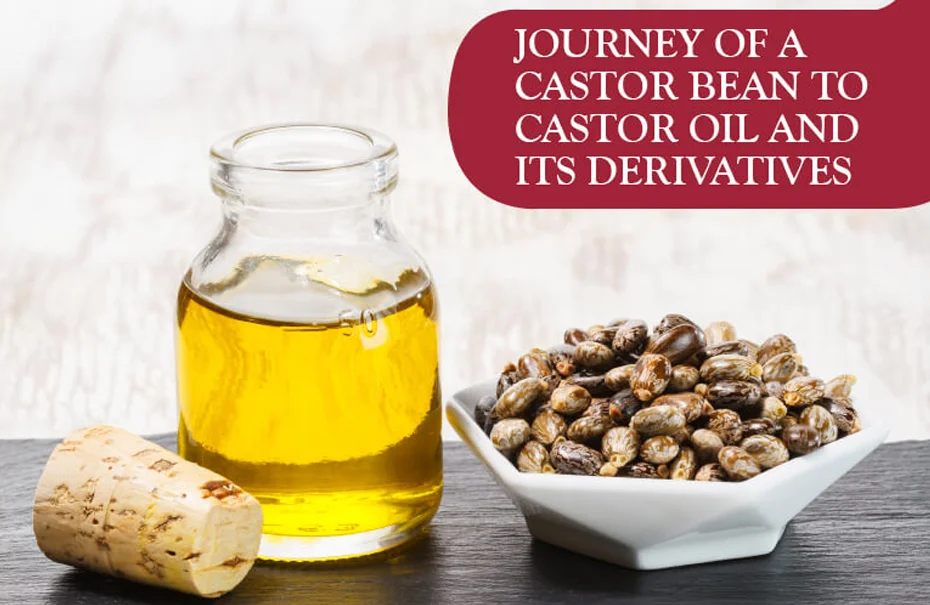 Ever since the human race has learned the ways to get oil and other products from nature, castor beans have been the most significantly used and produced ones. All the name and fame attached to castor oil is because of the properties that make it extremely beneficial not only to humans but also to the plants.
Castor seeds are very rich in ricinoleic acid content which has anti-inflammatory, anti-fungal, and anti-bacterial properties. It is a proven remedy for treating scalp infection and dandruff problems. Not only this, but people have also been using it to solve digestive issues too. Many believe that it also helps in inducing labor pain to an expecting mother. It is also used in industrial mass production of paints, varnishes, lubricants, adhesives, cosmetics, and other chemicals. It is also useful in the production of bio-plastic and bio-diesel.
It is a long journey that a castor seed has to travel to transform into castor oil so that it can be put to multiple uses. Let's know more about the journey of castor oil from a seed to its derivatives.
Sow – Cultivate – Harvest – Extract!
The best place to farm castor fields is found in the Western Gujarat of India. It is also produced in China and Brazil. But the climatic conditions and the quality of soil in India makes it the largest producer of castor seeds and oil and derivatives. The hot and dry climate of Gujarat with loamy soil makes it a perfect destination for castor seeds to grow into healthy castor plants. The farmers have to be very vigilant as weed should not be allowed on the castor farms. The growing season is of around 4 months.
The crops are harvested twice mechanically or manually, depending upon the availability and feasibility. After this, the seeds are hulled. What one gets after harvest is the castor bean. The seed is made up of around 50 percent of the oil. The bean constitutes around 40 to 60 percent of the seed. Of the bean and the oil, commercially oil is of more significance than the bean. Moreover, the beans can be fatal too.
Castor residue also contains toxins and often people are allergic to it. But still, technology and innovation have made it possible to detoxify the castor bean and use it in agriculture and horticulture as a by-product of castor oil. It doesn't matter whether the castor seed is grown in India or Brazil, because the quality of castor remains intact. It does not change with the place.
Once the seeds are hulled, they are cleaned, roasted, and dried before they are crushed and pressed with continuous hydraulic or screw pressing at low or high temperatures. With high-pressure hydraulic pressure, 80 percent of oil is extracted from the seed and the rest of the oil can be extracted with the solvent extraction method. Castor oil is made up of Dodecahydroxyoleic Acid, which no other vegetable oil contains. It is soluble in alcohol however not in water. It is resistant to heat.
Once the oil is extracted from the seed, the next stage is to remove impurities. Usually, a filter press is used to remove impurities like dissolved gases, acids and water. This filtered and purified oil is then sent to refineries for crude oil refinement. This involves the steps of settling and degumming, neutralizing, bleaching, and deodorizing.
Different Method for Different types of Castor Oil
There are various methods of extracting castor oil from the seeds and hence there are a variety of castor oils available. These include mechanical pressing, solvent extraction, and combination method. The oil obtained from the solvent extraction method is considered to be impure and of low quality, as it is treated with chemicals. The different types of castor oil that are available across the world are enlisted below.
Jamaican Black Castor Oil – this type of oil is produced when the castor seeds are roasted before extraction takes place. Its pH level is high and is in pure form with a high content of ash in it. The presence of ash makes it alkaline and improves its quality. It is named so as it is produced in Jamaica, Africa.
Organic Cold Pressed Castor Oil – when the organic castor seeds are pressed without heat, it produces this type of oil. Since there is no heat present, hence it is termed as cold-pressed. Due to the absence of heat, there is less chance of degradation of oil's healing property. It is thick and yellow in color and most favored by the users.
Chemical Extracted Castor Oil – this oil is extracted through the solvent extraction method and hence has chemicals added to it.
Hydrogenated Castor Oil – Castor Wax is the other name of this type of oil. It has hydrogen added. It is hard and brittle and does not dissolve in water. It is used in a variety of cosmetic products for thickening.
Electrical Grade Castor Oil – it is obtained from high-quality castor seeds. It has excellent attainable electrical properties. So, it is best used for medium voltage power capacitors and high voltage energy storage capacitors. It is pale yellow and is odorless.
Turkey red oil – also known as Sulphated Castor Oil, this oil disperses completely in water. It is named so because this oil's color is almost red. Its texture is thick as the original castor oil. It is obtained by adding sulphuric acid in the regular castor oil.
Which one to choose?
No matter which type of castor oil you choose, you can rest assured of some kind of benefits for your hair, skin, or overall health. If you consult experts, 100 percent cold-pressed and organic castor oil remain the top choice as it is richer in nutrients. And the added advantage is that it comes from organic castor seeds. It can be used as it is or may be blended with other oils like almond or coconut to get benefits of the mixed properties of the oils. It is advisable to add the castor oil in any form and type in your daily routine life. However, watch out for any unfavourable side effects and consult your doctor before consuming it orally.