Low Moisture Castor Oil: Benefits & Best Uses
Apr 07, 2023
Castor Oil Uses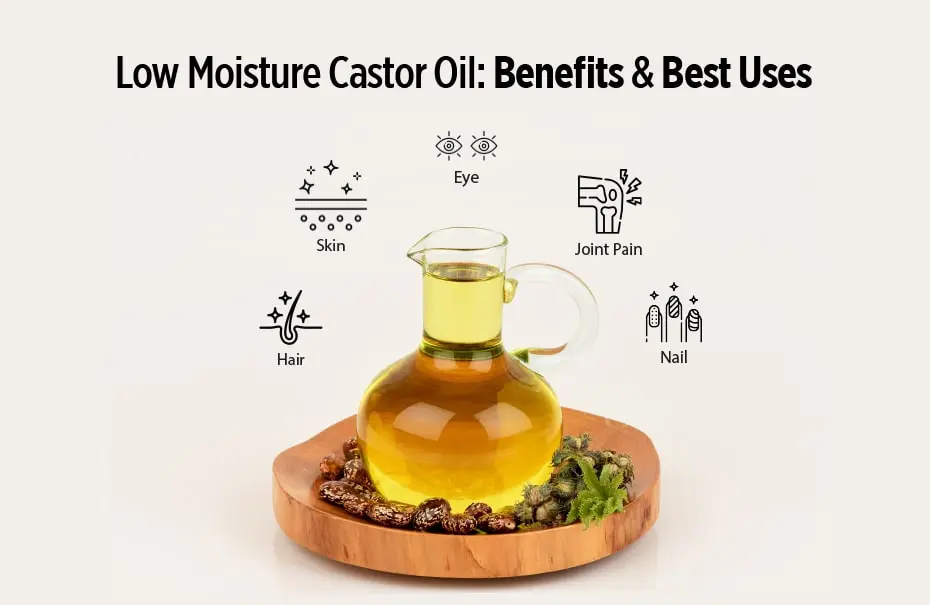 Did you know the wide range of uses that we get from castor oil is due to its ability to transform into different compositions, and low moisture castor oil is one among them?
Castor Oil: The Extraction & Composition
Castor oil, long used in traditional medicine, is a vegetable oil extracted from the seeds of the castor bean plant, also known as Ricinus Communis – which is native to tropical areas of Africa and Asia.
With ricinoleic acid – a type of fatty acid shown to possess anti-inflammatory properties as its main active component, castor oil is used for a wide range of applications mainly cosmetic and medical purposes.
Used mostly topically but even orally, castor oil is known for its laxative properties and hence is known as an ancient and most-used remedy for treating constipation. However, enriched with properties like anti-inflammatory, anti-fungal, anti-infectious, anti-rheumatic, anti-microbial, anti-allergic, and so on, castor oil is known to be the best and safest solution to multiple problems.
It is obtained by either cold or hot pressing castor seeds which contain (85 – 96%) triglyceride of ricinoleic acid (a powerful antioxidant with anti-inflammatory properties) and 12 Hydroxy Oleic Acids. As a result of its unique ester linkages, double bonds, and hydroxyl groups, castor oil can be readily reacted with a wide variety of chemicals and converted into a variety of products known as castor oil derivatives.
What is Low Moisture Castor Oil?
It is pretty clear from the name itself that low moisture castor oil, also known as "Dry Castor Oil" is a type of castor oil derivative; obtained after removing the moisture from the castor oil guaranteeing maximum efficiency.
Castor oil has a moisture range of 6.24 – 12.56% d.b and to bring it to as low as 0.02% to attain low moisture castor oil, it undergoes various rigorous processes. Like for example, it is dried under a vacuum (while stirring and blowing nitrogen through it) to extract the moisture from it and the final low moisture castor oil accumulated has 500 ppm or 200 ppm water content in it which is almost clear, water-white liquid comparing to the regular yellowish castor oil.
How is it Different from Castor Oil?
Needless to say, low moisture castor oil has lower moisture compared to regular castor oil, other than that, it is lighter in color, has a longer shelf life, has meticulous pH value, and it varies it terms of its applications majorly due to the chemical composition in it. Because of its low moisture content, its primary uses are adhesives, inks, urethane coatings, and a variety of other industrial applications that require minimal moisture for the production.
What are the Benefits and Best Uses of Low Moisture Castor Oil?
The benefits of castor oil are a never-ending saga because it has so much to offer that every industry today is after it. The goodness of castor oil is long known but it got ignored because of the rise in instant chemical solutions. However, today with alarming concerns regarding the harmful effects of chemical products, castor oil got back its fame and is currently the most-sought raw material for various industries.
Talking about the benefits of low moisture castor oil then it is no different from regular castor oil and hence one can surely gain the following advantages by adding castor oil to their daily routine.
For skin:
Having antimicrobial and anti-inflammatory properties, castor oil proves to be an effective remedy for treating acne and other skin-related infections.
Since castor oil has a low comedogenic score (a scale that shows how likely a specific ingredient can clog your pores), it is absolutely perfect for those with sensitive skin to add it to their skincare routine and reduce the risk of developing blackheads.
Castor oil is a great humectant and hence its application keeps the skin moisturized for a longer period compared to its chemical counterparts. Also, its varied composition of fatty acids enhances the smoothness and softness of skin and even improves complexion by promoting the growth of healthy skin tissue.
Castor oil is safer and cheaper compared to expensive facial oils and creams which may give instant results but damage the core of the skin in the long run.
For hair:
Castor oil has been a part of hair care routine since ancient times and its effects have maintained the practice to follow which is why many haircare products today have castor oil as the main ingredient.
From stimulating hair growth, and conditioning it, to treating hair problems like dandruff and hair fall, castor oil remains effective till today.
Other benefits:
Castor oil is one such oil that has both residential and industrial usages and hence apart from proving to be the best raw material for industries like pharmaceutical, cosmetics, food and agriculture, paints, paper, adhesives, hydraulic and brake fluids, etc., castor oil works best as a natural laxative for relieving constipation, as a joint pain reliever for those suffering from arthritis, as medicine to various health, skin, and hair problems, and so on.
As we said before, low-moisture castor oil is used in applications that require less moisture, and hence its best uses are in the following industries:
Adhesives, Sealants
Inks
Urethane Coatings
Lubricants
Chemical Intermediates
Food Chemicals – Acidulants, Emulsifiers
Cosmetics
In a Nutshell
Castor oil with its abilities has unlocked a wide range of usages and it deserves all the attention and praise it is getting today because it is indeed effective and efficient in giving the desired results no matter in what industry it is used for.
Low moisture castor oil too, has made its way to certain industries and we at Ambuja Solvex manufacture it with utmost care and precision to help those industries yield the results they have imagined for.
Note: Since the castor oil market is large and with rising demand for it, many cheap castor oil are easily available in the market but if you want 100% pure, natural and unadulterated low moisture castor oil then buying from a reliable source like Ambuja Solvex is recommended.